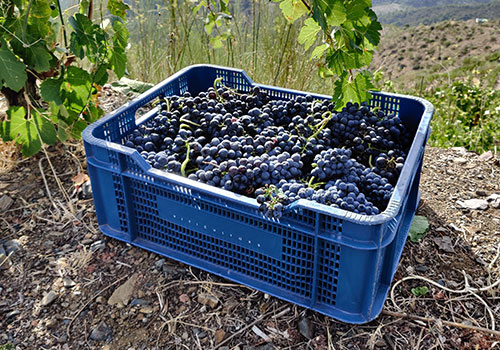 The wines from Priorat are majority red whites at about 94% and about 6% white as well as a little rosé in the mix.
There are about 2,100ha of vineyards in DOQ Priorat and a bit less in DO Montsant at around 1,900ha. In total, between both the DOs, there are about 160 wineries producing around 15 million bottles in a good year.
The primary grape variety in the region is red Grenache followed by Carignan. A key difference between the two DOs is that Priorat has slightly more Grenache while Montsant has slightly more Carignan. This, along with soil types affects the overall profile of the two regions as they're both at similar altitude averaging around 350m above sea level.
The wines of DOQ Priorat can be described as bold (thanks to Grenache which can get very alcoholic if care isn't taken), but for the past decade and a half, they're grown ever more subtle while staying true to their hearty, Mediterranean core. The wines of DO Montsant can be softer in profile (thanks to the heavier proportion of Carignan).
Many people wonder what the difference is between these two DOs and it largely comes down to a taste profile as Montsant sees more sun and is a region that's more open whereas Priorat is closed with sharp valleys and mountains.
There's been considerable evolution over the past two decades. Despite what some "classic" wine texts may state, both the wines of DOQ Priorat and DO Montsant are incredibly nuanced and not huge, megalithic wines they're often mistakenly described.
There is however much for any visitor to the region to discover as it attracts excellent winemakers from around the world to work in this special pocket of land, just 18km from the sea, but a world away from the coast.